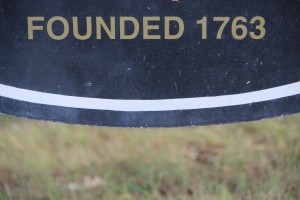 Piney Creek Presbyterian Church is the oldest Presbyterian Church in Carroll County, Maryland. It was organized in 1763 by Scotch-Irish Presbyterians who had come out of Philadelphia. A deed for a grant of land containing two acres and the use of a spring was given on February 15,1771 for a consideration of five shillings in trust for a church and burying grounds. A very plain log structure was built. In 1818, the log building was torn down and the present brick structure was built on the property. The present Church building was remodeled in 1869 and the bell tower was added early in the 20th century. A Social Hall was erected in 1946, actually occupying the site of the original log building.
The Church Yard is surrounded by a stone wall with a slate roof along it's top. It is listed as a Historic Carroll County Cemetery.
Piney Creek Presbyterian Church serves a congregation primarily located in Carroll and Frederick counties in Maryland and Adams County in Pennsylvania.
Piney Creek celebrated 250 years of service in 2013.